Miguel Cotto eyes winner of Alvarez vs. Golovkin for his last fight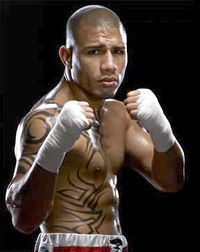 Miguel Cotto, the first Puerto Rican boxer to claim world championships in four weight classes, is due to retire following his next fight, scheduled for December 2. Who he wants for his final opponent depends on who comes out on top in this weekend's much-anticipated Alvarez vs. Golovkin superfight.
Cotto wants to leave his diehard fans and the whole boxing world with a suitably awesome finale to his highly successful 41-5 career. It doesn't matter much to him whether that's a sequel to his 2015 match against Saul "Canelo" Alvarez or a brand new start with a first-ever fight against Gennady "GGG" Golovkin, and it shouldn't matter much to fans of the sport either. That's because both Alvarez and Golovkin, who are set to vie for a unified WBA, WBO, IBF, Ring magazine and lineal middleweight championship Saturday night in Las Vegas, present plenty of exciting possibilities in a matchup with Cotto.
The Puerto Rican phenom started off his career as an up-close pressure fighter, relying on the strength of his stout right cross to finish off opponents he would soften up with rapid-fire 1-2s until his battered foe faltered. This strategy worked – and still works, as he proved with TKO victories over Australia's Daniel Geale in 2015 and a convincing decision win against Japan's Yoshihiro Kamegai as recently as Aug. 26 – but he reassessed the viability of the style after suffering a TKO loss to Mexican Antonio Margarito in 2008. Up until that point Cotto had been unbeaten in 32 fights, including some exemplary finishes and victories against the likes of Shane Mosley, Zab Judah and Paulie Malignaggi just to name a few, but he has since evolved into more of a puncher-boxer, emphasizing power or finesse as required.
Cotto's deftness in that regard would make him a serious threat to either Alvarez (51-1-1, 34 KOs), or Golovkin (37-0, 33 KOs). Alvarez, whose "Canelo" (that's "cinnamon" in Spanish) nickname refers as much to his red-hair as to his hot temper and heart, definitely has some power but favors a much more defensive, outside approach that harkens back to Ray Robinson. Golovkin, on the other hand, fights more in the classic headhunting, body-crushing "Mexican Style" mold than his Mexican opponent tomorrow night, and he hits like a train too, boasting a thunderous right hand with 2,159 pounds-per-square-inch of heavyweight-rivaling force.
Adding extra potential drama to the possibility of a fight with Canelo would be his shared history with Cotto, who had to give up the lineal middleweight title after their 2015 bout. Cotto told reporters in Puerto Rico that he felt he won that fight, if only slightly, and several high-profile analysts agreed, only strengthening the desire among fans to see the two Latino boxers once more take to the ring. In their first meeting, Cotto failed to really sink in to any of his punches, giving Alvarez a chance to demonstrate his power, particularly to the body, though Cotto defended against most of the damaging powershots intended for his head.
Against a fighter like Golovkin, Cotto would have to go back to the gutter, lest he give up some gut-wrenching blows delivered courtesy of the taller, bigger Kazakh. A fight like that would hearken back to the veritable war that was the 2009 fight with Filipino legend Manny Pacquiao, who went through his own stylistic shift away from all-out aggression as he became a more seasoned fighter. Golovkin though, is a different matter – far stronger than anyone Cotto has faced before in his storied career – and would in all likelihood require a knockout to beat, as Cotto's outboxing skills don't offer an equivalent match for the Kazakh's power.
If Alvarez comes out on top against Golovkin Saturday night, which isn't what the odds makers are laying, New York sports betting sites give Golovkin the narrow edge with -150 odds to Alvarez's +120, this fight would almost assuredly be easier to make happen for Cotto's going-away present. Canelo and Cotto are both engaged in contract with Golden Boy Promotions, headed by former champ Oscar De La Hoya, you see, and the boss surely wouldn't miss out on an opportunity like that.
No matter what happens this weekend in Alvarez vs. Golovkin, Cotto says he's ready to face the winner. Such a fight, surely to be remembered almost as much as the one that precipitated it, would be "the best way to say goodbye to boxing," Cotto told ESPN. "I would be proud to have that fight," he said. Cotto can rest assured that boxing fans worldwide would be proud to watch it. The large crowd of legal New York gambling fans would be more than happy to see this first on the board.